Bronze.
Large set of Skeleton Leaf gates, spanning a total width of 470cm,/ 15'5″ with a maximum height of 295cm./ 9'8″.
Single pedestrian entrance skeleton leaf gate 265cm/ 8'8″ high x 120cm/ 3'11" wide .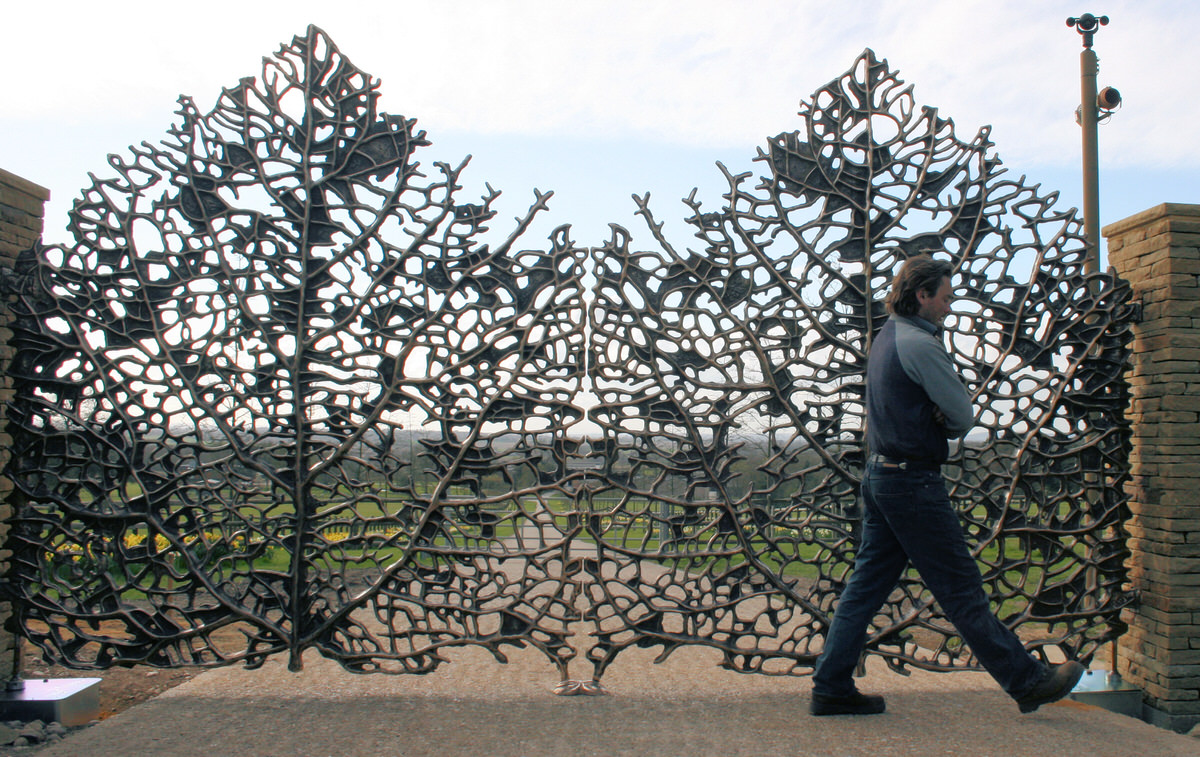 Mark Reed's  stunning sculptural Skeleton Leaf Gates in bronze were commissioned in 2007 by Sir Roger and Mrs De Hann for their estate driveway gates.. Mark  visited and viewed the estate and  after discussion with the client initiated the concept of the  Solid Bronze "Skeleton Leaf Gates", a sculpture that reflected and sympathised with the wooded estate and farm, as well as emphasising the client's love of nature. 
Incorporated within the design subtly was a Dodo,  which was of personal meaning to the client but  requires the viewer to search out to discover. The gates were designed, cast, engineered and manufactured in our workshop such that the strength of the leaf is in the middle and not on the edge; hence it is an optical illusion and juggles structural strength, whilst keeping the artistic beauty and lightness of the leaf. The gates are handed; each was individually made so that it gives a beautiful dramatic affect while open and passing through them, for they are the same on either side. We ensured that there were no gaps bigger than 10cm, as the client has children and the hinges were totally hidden and obscured for security. Aware of concerns of security and ram raiding Mark designed the gates with marine grade stainless steel inserts to ensure solidity .